Puppy Preschool
New contact number: 0451 533 339
Blacktown
Saturdays: 10am all size pups
Sundays: 10am all size pups
Who is it for? Pups between 8 weeks and 16 weeks old who have had at least their first vaccination seven days before commencing, and stay up to date with vaccinations and internal and external parasite control.
What do I get? Four one hour group lessons with other pups and their families for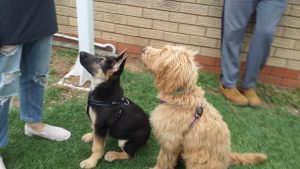 $180 (ie, pay $180 once and attend 4 one hour classes!).
When can I start? As soon as you are ready – continuous enrollments mean you do not have to wait for the beginning of the month for your pup to start preschool!
Where are classes available? 118 Flushcombe Road, Blacktown (near the Bungarribee Road intersection).

What is taught? Sit, Focus, Drop, Settle, Stay, Come, Here, Loose-Leash walking basic, no jumping, no biting, *toilet training*, confidence/independence building, play nicely with other dogs, calmly accept patting from people. When time permits we also play structured games like: musical sit, swap-a-dog, and the dancing stay; the following tricks may also be covered: high five, roll over, spin, play bow.
I have a very small pup, is preschool safe? Yes! All classes are run by and closely monitored by our professional trainer and any pup (of any size) showing signs of fear, shyness, anxiety or just those that are very small are kept safe from boisterous play and given extra time to build up their confidence.
How do I enroll in a Blacktown class? Just complete the form below, making sure you select the class you want to attend.
If you have an enquiry please do not complete the enrollment form, just email dorothy@cheekypup.com.au with your question!
What is taught in preschool and why
Sit: the polite way to ask for things including your attention, playing, providing a snack. Sit also stops your pup running around and jumping up on people, and allows you to return home without a major fuss from your dog. Prepares your dog to walk nicely on leash and starts preparing them to politely meet new people (some pups even sit when they meet other dogs!).
Focus: makes sure they pay attention to you, and enables you to then cue them to do other important behaviours to keep your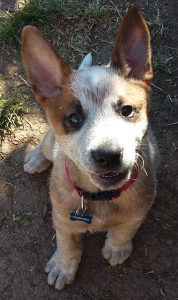 pup and people safe even if your pup is scared or excited.
Leave it: stops your pup from stealing things! But it's still important to put things away and out of reach of curious canines.
Stay: keeps your pup safe by not allowing them to run out of the house (or inside if they live in the backyard), and to stop them jumping out of the car as soon as you open the door. Stay also means you can calmly let visitors into your home without risking tripping over your pup or having their clothes damaged or dirtied. At Cheeky Pup we teach pups to stay so you can turn your back and walk away from them instead of backing away as if your pup is royalty!
Drop & Settle: encourages your pup to lie down calmly for a while while you get on with other things like eating dinner, talking on the phone, reading a book or just relaxing in front of the tv without having to constantly pet your pup. When your pup settles quickly it also means you can take them to public places and enjoy hanging out at your local coffee shop, taking your pup on picnics with the whole family, or even taking them along to watch local sports.
Come & Here: teaching your pup to return to you promptly will help keep them safe from running into traffic, disappearing into the bush, bothering your neighbours or running up to strangers who might not like doggy greetings. Also used to train games like tug and fetch.
Loose Leash Walking: teach your pup to walk forward on leash with confidence without charging ahead of you, zigzagging, or lagging behind, and stay reasonably focused on you!
Socialise nicely with people and other puppies so you don't end up with a dog that is embarrassing to take out into public places because they bark and lunge or cry and shake.
Accept handling so they can enjoy pats from new friends, and wont try and bite your vet or dog groomer during examination.
Toilet training is a major issue for many new pup owners and we provide lots of advice in classes and in writing so you have something to refer to when you get home. We are also happy to help people who want to crate train their pups, and we actively encourage this if you are having issues with toilet training.
Biting and nipping is typical puppy exploratory behaviour but they must be trained to be extra gentle with people. We give you advice on how to teach your pup to inhibit its bite, they get to play with other suitable pups in class which also helps them learn to control their mouthing, plus we send you detailed information for parents and children on how to behave with a pup or dog so everyone stays safe but still has lots of fun.
Games and competitions based on what is taught and your pup's natural abilities will keep you and your pup engaged during classes. There are even prizes for some!
General information about preschool classes
Puppy preschool classes are for pups from 8 weeks to 16 weeks of age who have had at least their first puppy vaccination (C3 minimum) no less than 7 days before joining a class.
Classes are generally limited to 6 pups. However we occasionally have a family bring two pups from the same litter and it is extra important that these pups are well socialised to avoid sibling dependence; in these instances we allow classes to have 7 pups.
If your pup happens to be shy or scared we encourage you to attend extra classes free of charge to give your pup time to develop their confidence.
All pups must come on leash and we recommend that you keep your pup in their car harness during training as a lot of pups struggle against the leash until they get used to it and we don't want them injuring the necks.
You are required to attend classes too! The number of people over 16 years who may attend is not limited. However for younger children we ask that someone 16 years or over comes along to supervise them for their safety and that of the other pups in class. We also need children to be relatively quiet and still while the pups are training as pups are very easily distracted (just like some owners!), but of course they are taught and encouraged to pay the pups at appropriate times and we play 'Be a tree' at least once in every course if children are attending. If anyone coming along to class is scared of dogs please let Dorothy know asap so she can set up the environment to reduce stress to that person.
If you can't make a class for any reason just let us know by email or text at least 24 hours in advance and you can do a catch-up class as soon as you are available!
Support outside of classes
Owners will be emailed a handbook (making pups happy by saving a tree!) which outlines homework for each class, as well as providing information on feeding, grooming, exercising, appropriate toys, basic first aid kit provisions, and legal obligations of dog owners.
While your pup is enrolled in preschool Dorothy is also happy to answer any questions and nut out any problems if you contact her via email or text – this is to give you time to think about what the problem really is and be specific and then she can answer it in a more helpful way that suits your purpose rather than just giving general advice.
If you feel you or your pup needs extra help on an issue or behaviour please email Dorothy at least 24 hours before your next class so she can be prepared to address that during class (you're probably not the only one experiencing that so its good to talk about in class). Otherwise you are welcome to book some in-home private training or behaviour modification if your problem is more pressing. Some families book in a 1 hour private session after preschool so children can be taught how to practice training and play with the family pup at home.
Health & Safety of your pup
All of Cheeky Pup's classes are held at vet clinics in areas that are not accessible to the public in areas that are easily and regularly cleaned to prevent the transmission of viruses and bacteria to animals. All pups must have had at least their first puppy vaccination 7 days before commencing a course – this gives the vaccination time to take affect and provides an isolation period for your pup so if they are ill symptoms will appear and they can be kept out of class until well. Your pup's vaccination schedule must be adhered to, along with regularly worming and parasite control. Please so not take your pup to a dog park until they have finished puppy preschool to ensure they do not carry any disease or parasites into the training areas. We also recommend that pups do not visit dog parks until they are at least 6 months old and approximately three-quarters grown – in the meantime it is best to arrange play-dates at peoples homes or continue socialising your pup during other training classes.
The Australian Veterinary Association encourages people to start socialising and training pups as soon as possible, the reasons for this are explained by the following quote:
'…It is vitally important to socialise puppies before the age of 14-16 weeks, in order to best develop well-socialised, friendly animals […]The best recommendation for socialisation but keeping a low risk exposure to Canine Parvovirus is to ensure all puppy boosters are given on time, and to take pups to puppy preschool where they can be socialised in a friendly, disease free environment until they mature enough to have mounted a strong immune response to the vaccination. Puppy preschool can guarantee a controlled, vaccinated population in contact with the puppy, and also an environment that has been appropriated disinfected…' Eradication of Parvovirus – an attainable dream? – Mark Kelman BSc BVMS CMAVA, The Veterinarian (February 2010) p40
Save
Save
Save
Save
Save
Save
Save
Save