New contact number: 0451 533 339
Group classes for juvenile dogs.
All dogs attending must not be aggressive to dogs or people. All dogs must be vaccinated to a minimum C4, and stay up to date with flea, tick and worm control.
Canine Kindy classes now available on weekend mornings and weeknights!
My goal for you and your dog after successfully completing Canine Kindy is to be able to calmly and quietly take your dog to the markets in the morning, stop at a cafe for lunch on the way home, and have visitors in the evening – without any stress, embarrassment or headaches!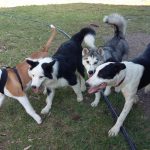 We now have two options for Canine Kindy:
Kindy 1 costs $200 and is for recent Cheeky Pup Puppy Preschool graduates and consists of 4 one hour group lessons.
Kindy 2 costs $300 and is for pups that missed out on Cheeky Pup Puppy Preschool and consists of 6 one hour group lessons.
Kindy 1 and Kindy 2 run together. When you enroll just select the class you wish to attend and the date you would like to start!
Payment: We require a minimum $50 deposit upon enrolling your dog with the balance either due upon commencement or, you may choose to pay via Afterpay (simply select this when you go to submit your payment details) which will allow you to pay 25% of the total cost fortnightly.
Continuous enrollments mean you do not have to wait for the beginning of the month for your dog to start kindy! The prerequisites for attending kindy are your dog is fully vaccinated with a minimum C4 vaccination, all parasite control is and remains up to date, and your dog is not aggressive to people or dogs.
Please note: If your dog is aggressive, reactive or fearful please contact us to arrange private training at your home so we can give you some control and build up your dog's confidence before enrolling them in a group class – this will give your dog the best possible chance of learning and changing their behaviour relatively quickly.
Kindy provides plenty of socialisation experiences with other dogs and new people, as well as providing an introduction to obedience training along with practical advice on how to change or manage the most common problem behaviours.
Kindy dogs will be taught to stop jumping on people, stop charging through open doors, walk nicely on leash, give things back, leave things alone, and how to settle down quietly. Plus dogs with basic obedience training will have that training tested and "proofed", while dogs who have no previous obedience training will be taught to sit, lie down, stay and come; time permitting tricks such as roll over, high-five, play bow and go to bed may also be taught (depends how quick your dog learns!).
We also teach you how to transition your dog away from only food treats to other rewards.

Don't worry if you can't make a class we let you make it up within 4 weeks of missing – just let us know via email or text in advance.
Saturdays 9am: 118 Flushcombe Rd, Blacktown 9am to 10am for medium and large breed dogs 4 months up to 18 months old, and giant breeds up to 1 year old.
Sundays 9am: 118 Flushcombe Rd, Blacktown 9am to 10am for small breed dogs between 4 months and 2 years of age.
If you have issues submitting the enrolment form please contact Dorothy on 0451 533 339.
Please complete the following form: