Welcome to Cheeky Pup! Dog Training
Come Stay Learn Play!
New contact number: 0451 533 339
If you want your pup or dog to:
pay attention to you,

learn to make great behavioural decisions, and

start doing these in just a few

minutes,
enroll in one of our classes or book one-on-one in-home training now!

Puppy Preschool classes for pups between 8 and 16 weeks old are held in Blacktown – please click here to enrol: https://cheekypup.com.au/puppypreschool/
Saturdays: 10am all size pups
Sundays: 10am all size pups
Canine Kindy classes for young dogs between 4 months and 2 years old are held in Blacktown on the weekends, and Pendle Hill on weeknights – please click here to enrol (remember to select which class you'd like to attend!): https://cheekypup.com.au/caninekindy/
Saturdays: 9am for medium, large and giant breed dogs
Sundays: 9am for small breed dogs

Private in-home training and behaviour modification for your puppy or dog (of any age) is also available Tuesdays to Fridays between 11am and 8pm and Saturdays 1pm – 6pm. Please email Dorothy directly at dorothy@cheekypup.com.au to arrange your appointment for private training/behaviour modification. Make sure to include:
the time and date you would like your appointment to occur;
your dog's name, age and breed;
your street address; and
the top 3 things you would like your dog or puppy to learn – this is to ensure we get the most important things attended to and then we can address other behaviours if time permits.
For pups up to 4 months old we limit our training session to 1 hour, at a cost of $180. For dogs over 4 months of age we always start with a 2 hour session at a cost of $340. This is because at 4 months and over we have to spend time getting rid of bad behaviours as well as instilling good ones! Please note – when in public or having visitors to your home, either restrict who may pat your dog to those you know are healthy or wash your hands after patting your dog if strangers have been allowed to pat them also (this will ensure any virus that may have been transferred to your dog's coat will not be transferred to you).
We also offer the following types of training at your convenience in your home to the residents of the Western Suburbs of Sydney:
puppy and dog training if you can't make it to one of our classes or have specific behaviours you want your dog to learn,

behavioural modification for dogs or pups with serious problems or issues,

dogs with disabilities (we do accept deaf and/or blind pups into our preschool classes, but if your dog is older or has another disability we can help you too),

assistance dog training,

therapy dog training and assessment of therapy dogs and handlers,

plus,

menacing/dangerous dog assessments for revocation applications.
All of our training is fun for your dog as well as being ethical and humane.
We only use reliable and proven scientific methods of training and behaviour modification.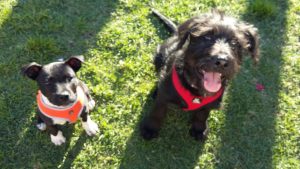 Please check out the information available on the separate pages for our classes (just click on the links in capital letters that are at the top of this page!).
If you have any general questions about our training please check out the relevant page on this website and if you still have any questions, email me at dorothy@cheekypup.com.au.
Save
Save
Save